Comprehensive Security Training (CST) Course
Comprehensive Security Training (CST) in a WIOA-Approved Program
Have a Question about Our Security Training Course? Call (818) 906-3753
The Comprehensive Security Training (CST) Course is a 104 hours security course. This 12-day program focuses on providing the most realistic and practical fundamental base for entry-level candidates in the security field.
All of our training is designed to be an attainable step-by-step process to develop a confident understanding of each topic through classroom and practical exercises. The Comprehensive Security Training (CST) program is ideal for individuals wishing to break into the static security industry by receiving the training and certificates in numerous high end security and security related courses.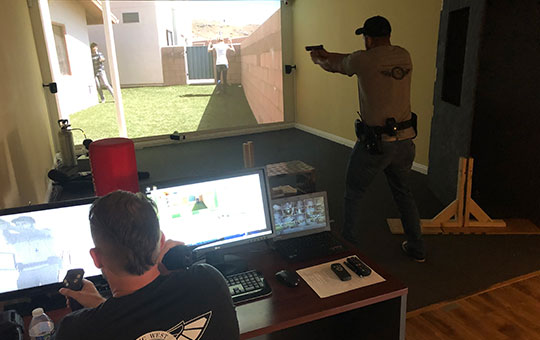 Our Comprehensive Security Training program is approved under the Workforce Innovation and Opportunity Act (WIOA)which is designed to provide quality employment and training services to assist eligible individuals in finding and qualifying for meaningful employment, and to help employers find the skilled workers they need to compete and succeed in business.
Begin a new career in executive protection with our
Comprehensive Security Training Course.
"*" indicates required fields
Classes Included in the Comprehensive Security Training (CST) Program
This security training course is the first step toward working in a security career. The course is certified through California's Bureau of Security and Investigative Services (BSIS) and is AB2880-compliant. Graduates receive state certifications as security officers.
The course provides State Certification for an exposed firearm permit. Even if a person is licensed or registered in the security field, they may not carry a gun on duty whether loaded or unloaded unless they have been issued an exposed firearm permit by the Department of Consumer Affairs. Permit must be kept on one's person at all times while on duty.
This course teaches the skills and abilities to effectively carry a baton. PWA instructors give hands-on training and experience with a baton. You will receive California Baton Permit issued by BSIS and ASC Certificate of Completion.
An introductory course into arrest and control. This course covers the basics of conflict management, handcuffing, and controlling a suspect while in the performance of duties as a security guard.
Learn the skills and abilities to effectively give life-saving Cardiopulmonary Resuscitation (CPR) techniques as a first responder. During the course, an American Heart Association Instructor works with each student to complete their first aid training, CPR and Automated External Defibrillator (AED) skills practice and testing..
This course provides students fundamental security training and a first-hand, detailed understanding of executive protection. Students experience a hands-on approach of high-end, VIP and Celebrity protection in the day-to-day civilian environment.
A security training course that teaches you how to utilize a Taser as a non-lethal method of self-defense. The curriculum is broken into three sections: lecture, demonstration and scenario method.
This course covers Federal and California Laws regarding the prevention of sexual harassment, discrimination and retaliation in employment.
Get certified for OC (Oleoresin capsicum) pepper spray. Student learns the skills to effectively carry a chemical agent and receives et hands-on training and experience with chemical agents.
With the passage of California Senate Bill 1626 in 1998, California state law requires security guards in Kindergarten through 12th grade (K-12) school districts or California community college districts to complete a course of training developed by the Bureau of Security and Investigative Services (BSIS). The law applies to campus security personnel working on school property for more than 20 hours per week. This course fulfills the training requirements outlined in the School Security Guard law.
Upon completion of this course, students graduate with a completed and revised professional résumé and are then able to walk into an interview confidently. The course uses hands-on practice through mock interviews in addition to physical résumé writing in an interactive and productive setting.
Duration: 104 hours
Course Cost: $4,130.00
Cost includes all supplies, fingerprinting and application fees.
Mandatory applications and background checks are processed by the state to determine certification approval. Before signing up for the 12-day course, applicants should call to see if they meet the state's requirements.
---
Course Schedule & School Calendar – Los Angeles
---
Course Schedule & School Calendar – San Diego
Our Students Say
As a former law enforcement officer I thought I had a pretty good understanding of what it would take to be a good Executive Protection Specialist but it's a whole different ball game when you don't have the weight of a badge behind you. Although this course was basically fundamentals, I felt it helped bridge the gap between my experience as a law enforcement officer and the EP field. Although I had done a lot of similar range work before I found the firearms portion of the course work to be very professional and well executed and could see how this would be a great course for someone new to the field. Thanks for a great course.
Josh
Huntington Beach, CA
I just wanted to thank you for giving me the opportunity to attend your CPR course. I know your focus is primarily training bodyguards but as a mother of two I wanted to learn CPR 'just in case.' I never realized there was such a difference between CPR for adults and CPR for infants. I now feel comfortable that if something bad were to happen I have the ability to do CPR. Thank you again.
Larissa
Courpus Christi, TX
I've been in Executive Protection here in LA since returning from a tour in Iraq in 2005. I think a lot of people who are interested in this field are under the misconception that being a cop, soldier or bouncer will give them all the tools they need to be effective in the EP field. Far from it. These jobs may provide a foundation but they don't provide a true understanding of the dynamics of Executive Protection. Your course was a good introduction to the ins and outs (and potential pitfalls) of EP work. Whether or not someone is new to the field or, like me, just trying to maintain perishable skills, I highly recommend this course.
Don
Los Angeles, CA
I just want to say thank you to ASC for everything. After I graduated I got a call from ****** Security about my interview that I had with them on the last day of school. They said that the skill set and training I received from ASC (along with my military background) place me far beyond the average person who applied for a job with their company. And because of that they want to hire me not as a security guard, but as a shift supervisor. I couldn't believe it. One of my fears about starting my career and security was that I would graduate from training and not receive any job offers. However since graduating ASC I've been offered two jobs (one as a supervisor and one as a guard) and the pay for both are great. The money I'm going to start making is way more than what I was before so for that I want to say thank you. It was because of you guys that my life changed course and now the possibilities are ever-changing. Be sure to pass my thanks to Connor, Omer, Ryan, Jake, Ian, Steve and the rest of the guys.
Jovidean
Sun Valley, CA
Previous
Next