Taser Training & Certification
PWA's Taser Training and Certification course teaches you how to utilize a Taser as a non-lethal method of self- defense. Curriculum is broken into three sections: lecture, demonstration and scenario method. Taser training enables students to learn how to use a Taser as an effective, non-lethal means of self-defense. To use a Taser properly and safely, you need to undertake training. Training provides an in-depth understanding of how a Taser works, how it should be employed and when it should be used. The Taser training course is divided into three key sections, which form a comprehensive curriculum; these include lecture, demonstration and scenario training. Taser training is recommended for anyone who may find themselves in a situation where they need to employ a Taser to protect themselves or others, for example, military personnel, security professionals, police officers, and bodyguards. If you're hoping to pursue any of these career options, or you're already in a similar role, and you'd like to enhance your training, our Taser training course could be hugely beneficial for you.
Taser Training Course Overview
The aim of Taser training is to equip students with the knowledge and practical skills to operate and employ a Taser with proficiency, confidence, and composure. A Taser can be a very effective self-defense weapon, but it's essential that those who have possession of a Taser understand how and when to employ it.
Understand how the ECD device overrides and controls the sensory and motor functions of the nervous system or combative subject: To understand how the ECD affects the central nervous system and the impact a Taser has on the body: a Taser overrides the sensory system, affecting motor functions and the ability to experience and process sensations.
Legal aspects of an ECD: To understand the legal implications of using an ECD; this is not a weapon that should be employed in any scenario that doesn't warrant the necessity to protect yourself or to take steps to protect others from danger.
Be able to reload in a safe and proper manner.
Learn proper finger positioning for aiming and firing.
Safe handling of the ECD.
Pre- and post-deployment protocol.
Fully understand the probe placement and ballistics.
Learn how to utilize the laser and fixed sights.
Understand probe placement and ballistics.
Ability to draw, hit a target and reload at various targets.
Practical Exercises: Taser training at Pacific West Academy involves three key elements: lecture, demonstration and scenario training. Students will participate in classroom sessions, which are designed to provide an understanding of how a Taser works, how it affects the body, and when a Taser can be employed effectively. The next stage is to learn from practical demonstrations, which are carried out by trained instructors. The demonstration part enables students to get to grips with the handling of the ECD and learn how to reload and use the Taser with maximum efficiency. Safety is a priority at every stage, and students will learn how to use an ECD according to safe practice guidelines. The final stage of training invites students to use the knowledge they have gained to hone their practical skills and to participate in virtual reality scenarios. Using the latest VR technologies, students can feel what it's like to be in a scenario where they may need to use a Taser to protect themselves or other civilians. You can develop your confidence in an environment where somebody puts your safety at risk and get used to handling and using the Taser without any risk of injury or accidents. Combining training methods ensures that students leave with the knowledge, confidence and training they need to operate a Taser safely and effectively.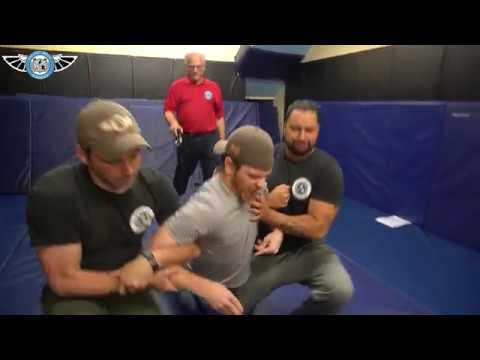 Who can benefit from Taser training?
Taser certification requirements
Taser training is designed for those who may find themselves in a professional scenario where their safety is threatened, or they are acting to protect somebody else. The course serves as Taser training for security guards as well. If you're in the police force or the military, or you work as a security guard or a bodyguard, it's beneficial to undertake training to ensure that if the situation arises, you'd be competent and confident enough to use this weapon to protect yourself and those around you with minimal risk. Taking the Taser course gives you access to all the information you need to understand how a Taser works, and provides you with practical training to get the best results if you ever find yourself in a situation where you feel it necessary to employ a Taser.
Certification:
Duration: 6 hours
Why choose Pacific West Academy?
When providing security services, approval and regulatory recognition is key. Pacific West Academy is approved by a number of organizations. These include the Bureau for Private Postsecondary Education and the California State Approving Agency for Veterans Education. We also offer financial assistance for veterans who may wish to take our courses. Please contact us for more information on these programs if required.
Why not get in touch us today?
If you have any questions or wish to go ahead and secure your place on our next course, then we'd be delighted to hear from you. Please do get in touch and begin your journey today.
Our Students Say
As a former law enforcement officer I thought I had a pretty good understanding of what it would take to be a good Executive Protection Specialist but it's a whole different ball game when you don't have the weight of a badge behind you. Although this course was basically fundamentals, I felt it helped bridge the gap between my experience as a law enforcement officer and the EP field. Although I had done a lot of similar range work before I found the firearms portion of the course work to be very professional and well executed and could see how this would be a great course for someone new to the field. Thanks for a great course.
Josh
Huntington Beach, CA
I just wanted to thank you for giving me the opportunity to attend your CPR course. I know your focus is primarily training bodyguards but as a mother of two I wanted to learn CPR 'just in case.' I never realized there was such a difference between CPR for adults and CPR for infants. I now feel comfortable that if something bad were to happen I have the ability to do CPR. Thank you again.
Larissa
Courpus Christi, TX
I've been in Executive Protection here in LA since returning from a tour in Iraq in 2005. I think a lot of people who are interested in this field are under the misconception that being a cop, soldier or bouncer will give them all the tools they need to be effective in the EP field. Far from it. These jobs may provide a foundation but they don't provide a true understanding of the dynamics of Executive Protection. Your course was a good introduction to the ins and outs (and potential pitfalls) of EP work. Whether or not someone is new to the field or, like me, just trying to maintain perishable skills, I highly recommend this course.
Don
Los Angeles, CA
I just want to say thank you to ASC for everything. After I graduated I got a call from ****** Security about my interview that I had with them on the last day of school. They said that the skill set and training I received from ASC (along with my military background) place me far beyond the average person who applied for a job with their company. And because of that they want to hire me not as a security guard, but as a shift supervisor. I couldn't believe it. One of my fears about starting my career and security was that I would graduate from training and not receive any job offers. However since graduating ASC I've been offered two jobs (one as a supervisor and one as a guard) and the pay for both are great. The money I'm going to start making is way more than what I was before so for that I want to say thank you. It was because of you guys that my life changed course and now the possibilities are ever-changing. Be sure to pass my thanks to Connor, Omer, Ryan, Jake, Ian, Steve and the rest of the guys.
Jovidean
Sun Valley, CA
Previous
Next