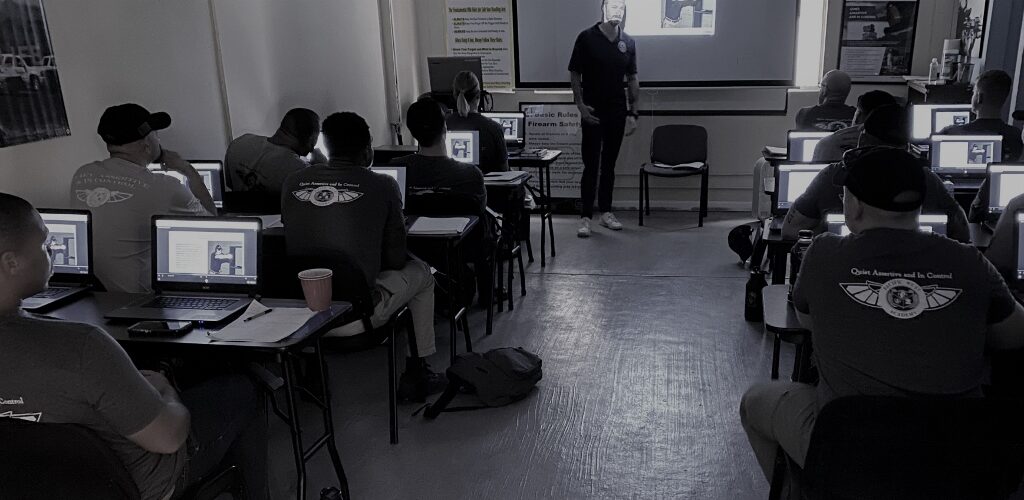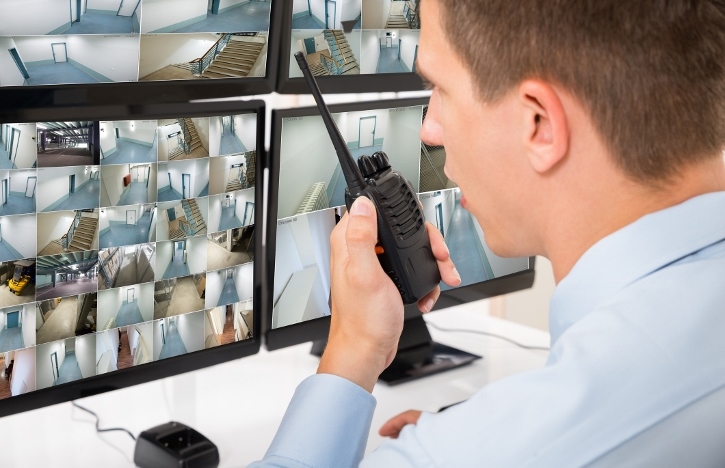 Security Guard Training
Security guard jobs are very appealing to those that have a natural desire to protect civilians, such as military veterans. Before stepping into the world of protecting people, however, it's imperative that you know how to work with a sense of professionalism at all times. In truth, the training routines are arguably the most vital part of all, and the right security guard training courses will provide the perfect preparations.
At Pacific West Academy, all enrolled students will develop an array of skills built for all situations that you may encounter. By the time you've graduated, you'll be ready to serve the public with authority and diligence at every turn. Best of all, the speedy nature and quick development allow you to reap those rewards in next to no time.
Here are just five of the key skills that will be gained from your  Security Guard Training course.
#1. Non Violent Management
When situations occur, you need to be ready to assert your authority. Nonetheless, the non violent approach should always be the preferred course of action. If it is possible to diffuse a situation without requiring the use of batons or other tools, this has to be the best solution. Not only does it prevent the perpetrator from getting aggressive, but it keeps the environment calmer for civilians.
The best security guard courses teach guards how to communicate with suspects in the smartest manner. A little psychology goes a long way in those situations, especially when you are able to successfully gain control of the situation. Once the power is in your hands, the next steps should feel far less stressful. Again, your mental stance can influence the reaction of others.
Non violent approaches won't always work, but being able to utilize them in several situations will often separate the good security guards from the great. With training from Pacific West Academy, developing those communicational and psychological skills needed to thrive.
#2. Situation Management
Even when you naturally try to avoid them, physical confrontations are inevitable in this line of work. When this is the case, knowing how to distract a perpetrator before disarming them is essential. Security guard courses should teach you how to do this with non lethal weapons as well as physical strength and smart tactics.
This may include learning to use a taser gun or O.C spray. When using those resources, it needs to be done in the right fashion, or else situations can escalate. Aside from learning the skills, gaining the certification puts new security guards in a far stronger position as they bid to keep environments safe. Whether it's a school or a shopping mall, those capabilities are key.
Perhaps the most important aspect relating to this part of security guard work revolves around timing. Analyzing individual situations should mean diffusing situations before they escalate without unnecessarily using brute force. Get those elements right, and you'll be ready to perform.
#3. Building Searches
Security guards will often have to enter situations where problems have already started. This could occur when providing backup as well as many other cases. These can be the most dangerous scenarios of all, so handling those tasks in an appropriate fashion is crucial. Our security guard courses provide the necessary skills and tools to do just that.
Having your flashlight and non-lethal weapons ready for action is vital, but you'll also need to follow the right protocols when searching the premises. Otherwise, you could potentially bring harm to yourself as well as others. Undertaking various hypothetical situations will prepare you for the real life scenarios that you may encounter.
A security guard that is capable of keeping the building safe while dealing with the situation in an efficient manner will always thrive, even under immense pressure. If nothing else, having that confidence should prepare you for permanent employment.
#4. Report Writing
Handling the immediate danger and defusing a situation before it escalates will always be the most important aspect of the job. However, while completing this aspect will give you a chance to breathe a sigh of relief, it doesn't signal the end of the work. Filing the full details of the incident is an equally crucial task that needs to be completed to the best possible standard.
Pacific West Academy prides itself on making this potentially tedious task feel more enjoyable. Most importantly, though, the security guard courses will equip you with the knowledge and experience to complete those post incident reports in the best manner. When the situation has been documented, it'll protect both you and the company too.
Better still, learning how to file those details in an efficient manner enables guards to get back to the meat of the job far sooner. Besides, without those attributes, your capabilities as a security guard will forever stay limited.
#5. Staying Safe
While protecting civilians is the priority at all times, it's still important to look after your personal safety too. Security guard courses include personal safety training, which builds upon the skills learned elsewhere, to ensure that you aren't placed needlessly at threat. Once again, this can keep situations calmer for civilians they may be caught in the wrong place at the wrong time.
Personal safety requires being vigilant and diligent at all times. The ability to spot potential danger or scenarios before they materialize can only have a positive impact in the bid to keep yourself and others in the safest condition. This also includes knowing when to call for backup if the situation is becoming too much for you to handle alone.
After all, it's impossible to protect civilians if you don't first know how to protect yourself. Therefore, this can be considered a crucial part of the process. Pacific West Academy ensures that all students gain an appreciation of this fact.
The Final Word
If you're looking to start a career in security, taking the right course is the first step en route to success. Book yourself onto a course today, and that dream job could become a reality in no time.
---
Our Students Say
I just want to say thank you to ASC for everything. After I graduated I got a call from ****** Security about my interview that I had with them on the last day of school. They said that the skill set and training I received from ASC (along with my military background) place me far beyond the average person who applied for a job with their company. And because of that they want to hire me not as a security guard, but as a shift supervisor. I couldn't believe it. One of my fears about starting my career and security was that I would graduate from training and not receive any job offers. However since graduating ASC I've been offered two jobs (one as a supervisor and one as a guard) and the pay for both are great. The money I'm going to start making is way more than what I was before so for that I want to say thank you. It was because of you guys that my life changed course and now the possibilities are ever-changing. Be sure to pass my thanks to Connor, Omer, Ryan, Jake, Ian, Steve and the rest of the guys.
Jovidean
Sun Valley, CA
I've been in Executive Protection here in LA since returning from a tour in Iraq in 2005. I think a lot of people who are interested in this field are under the misconception that being a cop, soldier or bouncer will give them all the tools they need to be effective in the EP field. Far from it. These jobs may provide a foundation but they don't provide a true understanding of the dynamics of Executive Protection. Your course was a good introduction to the ins and outs (and potential pitfalls) of EP work. Whether or not someone is new to the field or, like me, just trying to maintain perishable skills, I highly recommend this course.
Don
Los Angeles, CA
I just wanted to thank you for giving me the opportunity to attend your CPR course. I know your focus is primarily training bodyguards but as a mother of two I wanted to learn CPR 'just in case.' I never realized there was such a difference between CPR for adults and CPR for infants. I now feel comfortable that if something bad were to happen I have the ability to do CPR. Thank you again.
Larissa
Courpus Christi, TX
As a former law enforcement officer I thought I had a pretty good understanding of what it would take to be a good Executive Protection Specialist but it's a whole different ball game when you don't have the weight of a badge behind you. Although this course was basically fundamentals, I felt it helped bridge the gap between my experience as a law enforcement officer and the EP field. Although I had done a lot of similar range work before I found the firearms portion of the course work to be very professional and well executed and could see how this would be a great course for someone new to the field. Thanks for a great course.
Josh
Huntington Beach, CA
Previous
Next