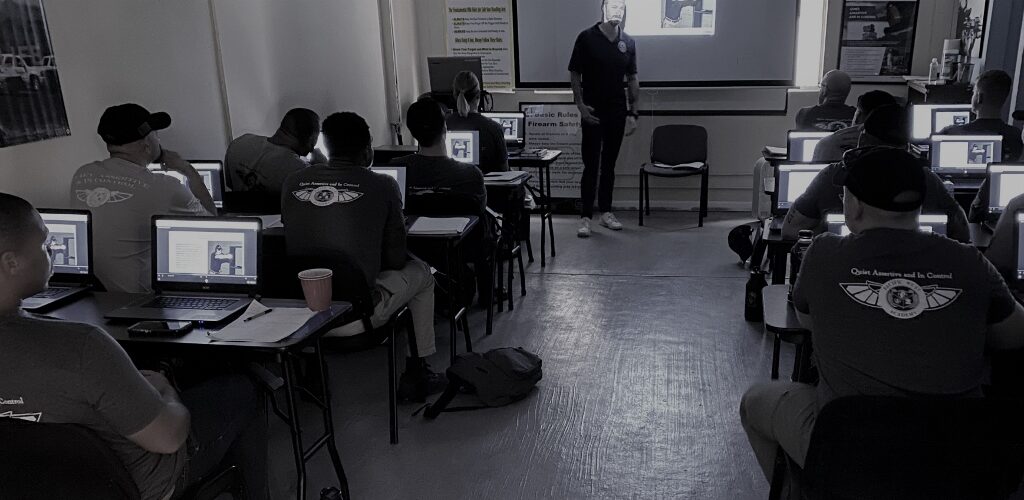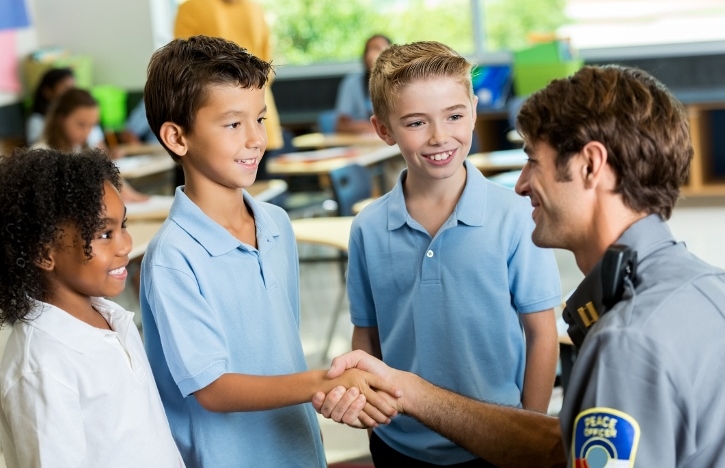 School Security Guard Training
Pacific West Academy boasts the designated programs built for those wishing to take School Security Guard Training, providing the perfect preparation for your future career.
As a former military professional, becoming a school security guard is one of the most appealing jobs of all. The idea of protecting children and civilians links in nicely with the old career while the list of transferable skills makes it one of the smoothest career transitions on offer too.
Before looking at school security guard jobs, though, you first need to complete your school security guard training. While the transition from military work may be easier than the transition from many other industries, the need to build on the skills you already boast cannot be ignored, not least because schools are unique environments.
Is It The Right Type Of Security Job For You?
Before jumping straight into training for a new career, you need to know that it is the right choice for you. So, what does a school security guard do?
In a nutshell, a school security officer serves to protect students, teachers, and civilians while also ensuring that the building and school grounds are safe at all times. However, the work is more complex than that. With the right school security guard training, you'll learn to cover all aspects of the job. By the time you've graduated, you'll be an expert in each of the following;
Campus Patrol: From securing the entry/exit points to conducting searches, keeping the campus safe is a daily battle. Supervising activities and generally maintaining a strong patrol over the school grounds are crucial factors.
Protecting Students & Teachers: This means guarding the school to ensure that those people are kept away from potential danger. This can include getting children onto buses or handling physical fights that might take place on school grounds. A calm environment encourages better work.
Emergency Response: This can include defusing the initial danger as well as evacuating the building and alerting the police and emergency teams. Essentially, knowing how to keep a cool head in those dangerous scenarios is vital.
Delegating Duties: A school security officer may also need to split duties across a team of security workers. After all, protecting a school is too much for one pair of hands and eyes. Similarly, this may also involve integrating an array of tech features.
In addition to knowing that you are capable of completing those tasks, you'll want to think about the times that you'll be needed for work. This type of work involves fairly early starts, but won't require much late work. Of course, the exact job role will vary depending on the type of institute chosen.
If the job suits your schedule, pay requirements, and general desires from a career, Pacific West Academy can provide the perfect platform to make that a reality.
It's Not All About Dealing With Danger
It would be very easy to assume that school security work is all about acting in disasters and preventing potentially dangerous situations. While you may get called into action from time to time, the daily challenges rely on great communication more than anything else. As a former military worker, this should come fairly easily. Still, learning to handle the unique situations within the school environment is crucial.
An understanding of the laws and regulations provides a solid foundation that will allow you to work with authority and confidence. Meanwhile, knowing how to connect with children, teenagers, and teachers in the appropriate fashion should enable you to achieve the very best results. Maintaining that approachable yet authoritative figure can only give you a better chance of performing to the very highest standards.
If nothing else, those improved communications should put the people you're serving at ease. Given the importance of promoting a positive atmosphere, this is arguably one of the most crucial elements of the entire school security guard training process.
Becoming A School Security Guard In Style
When looking to make that transition from a military background, you'll already boast many of the skills needed to thrive. However, there are a few additional attributes that need to be developed while getting used to an array of new situations is pivotal too. Furthermore, it is a legal requirement to pass the exams and pick up the certification needed to work in a K-12 school. This has been the case for over 20 years.
Pacific West Academy knows that you already have many of the traits that will be needed for this job. We also understand that you want to start your new career ASAP, which is why we provide fast and affordable tuition without compromising on quality. You can complete your school security guard training with just 24 hours of education while the price is just $300. The fact that this can be covered by the Post 9/11 GI Bill makes it even more accessible.
By the end of the short course, you'll gain:
Mandated Training for School Security Guards SB 1626 through Pacific West Academy
PWA Certificate of Completion
An array of skills needed to thrive in this new career.
We can also provide support when looking school security officer jobs and preparing for interviews to help you land the dream role. Learn fast, earn fast.
Now Is The Time To Start
Whether you're retired from service or have a little time before your next employment, your next steps could direct the next phase of life. School security guard jobs appeal for many reasons, and may be the key to unlocking increased happiness. Whether you're in your 20s or 50s, now is the perfect time to start plotting your next career move with the right training.
If you're still unsure, why not speak to one of our advisors for further details on the job prospects as well as the expectations and earliest start dates available. We want to serve you so that you can serve school kids and teachers with professionalism at every time. Together, the dream of a safer America can come true.
---
Our Students Say
I just want to say thank you to ASC for everything. After I graduated I got a call from ****** Security about my interview that I had with them on the last day of school. They said that the skill set and training I received from ASC (along with my military background) place me far beyond the average person who applied for a job with their company. And because of that they want to hire me not as a security guard, but as a shift supervisor. I couldn't believe it. One of my fears about starting my career and security was that I would graduate from training and not receive any job offers. However since graduating ASC I've been offered two jobs (one as a supervisor and one as a guard) and the pay for both are great. The money I'm going to start making is way more than what I was before so for that I want to say thank you. It was because of you guys that my life changed course and now the possibilities are ever-changing. Be sure to pass my thanks to Connor, Omer, Ryan, Jake, Ian, Steve and the rest of the guys.
Jovidean
Sun Valley, CA
I've been in Executive Protection here in LA since returning from a tour in Iraq in 2005. I think a lot of people who are interested in this field are under the misconception that being a cop, soldier or bouncer will give them all the tools they need to be effective in the EP field. Far from it. These jobs may provide a foundation but they don't provide a true understanding of the dynamics of Executive Protection. Your course was a good introduction to the ins and outs (and potential pitfalls) of EP work. Whether or not someone is new to the field or, like me, just trying to maintain perishable skills, I highly recommend this course.
Don
Los Angeles, CA
As a former law enforcement officer I thought I had a pretty good understanding of what it would take to be a good Executive Protection Specialist but it's a whole different ball game when you don't have the weight of a badge behind you. Although this course was basically fundamentals, I felt it helped bridge the gap between my experience as a law enforcement officer and the EP field. Although I had done a lot of similar range work before I found the firearms portion of the course work to be very professional and well executed and could see how this would be a great course for someone new to the field. Thanks for a great course.
Josh
Huntington Beach, CA
I just wanted to thank you for giving me the opportunity to attend your CPR course. I know your focus is primarily training bodyguards but as a mother of two I wanted to learn CPR 'just in case.' I never realized there was such a difference between CPR for adults and CPR for infants. I now feel comfortable that if something bad were to happen I have the ability to do CPR. Thank you again.
Larissa
Courpus Christi, TX
Previous
Next