Executive Protection Specialist – Advanced Training Course
Advanced Executive Protection Training Course
The aim of this executive protection training course is to upgrade the capabilities of law enforcement personnel and executive protection security officers and train them to work as a security team (4 security officers).
If you have previous experience as a member of law enforcement or an executive protection officer, look no further. Our Advanced Executive Protection Training course is the perfect next step for you. This course takes fundamental knowledge and builds on it to deliver excellent results. It provides effective training that will allow you to work as part of a security team in future.
The course is instructed in collaboration with Israeli Tactical School.
Advanced Executive Protection Course Overview
As you would expect from an advanced course, you will benefit from in-depth, specialist training should you choose to enroll on our course. We cover a wide range of subjects, eventualities, and procedures. You will complete the course with a comprehensive knowledge of the most advanced techniques in the executive protection industry.
There are no areas of executive protection that this course does not cover in great detail. You will, for example, work on your fitness during the course. Training drills and "Box" drills are incorporated as standard. Moving into the specifics of security, you will also be taught how to plan, manage, and executive a three-car motorcade. You'll receive instruction that will allow you to operate as part of the Counter Assault Team (CAT) vehicle when operating in motorcades. Expanding your knowledge even further, you will also be provided with a complete guide to planning and executing full security operations.
We also recognize the importance in providing combat training to those undertaking the Advanced Executive Protection Training course.
To meet this need, we offer two individual types of training. First and foremost, you will learn advanced hand-to-hand combat techniques. Secondly, the course will also provide a thorough grounding in standing and kneeling weapon deployment.
Overall, the level of instruction you receive will successfully build on your existing knowledge. It will provide you with an operational-level ability to perform the role of an executive protection officer. The Advanced Executive Protection Training course is incredibly complex and rich in detail. However, it also delivers the information in a simple, easy-to-understand manner that fully prepares you for a career in this sector.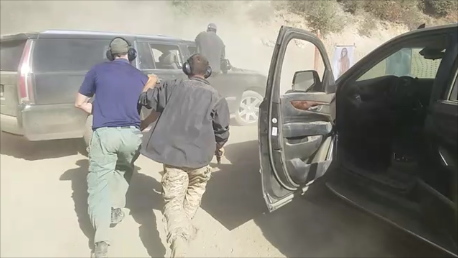 ASC will instruct your personnel on the following topics:
Tactically operate as the VIP's security officer.
"Box" drill.
Plan and execute a 3 car motorcade including execution of emergency procedures.
Operate as part of the CAT (Counter Assault Team) vehicle in a motorcade.
Plan and execute a full security operation.
Advanced hand to hand combat.
Weapon deployment techniques from the following positions: kneeling, standing.
Duration: 32 Hours
This course is in collaboration with:


Why choose Pacific West Academy?
At Pacific West Academy, we are proud to be able to offer a number of financial resources to veterans. We believe that the courses we provide offer a route to secure, stable employment by building on the skills of former military personnel. We seek to try and ensure as many veterans are able to benefit from security guard training as wish to do so. We do this by offering a range of options that can provide the resources and support veterans may require to enroll on our courses. If you wish to find out more about our veteran's programs, please do get in touch or read more on our website about the opportunities that we have available.
Pacific West Academy are an Advanced Security Concepts, Inc (ASC) company. ASC are one of the best recognized names in the security industry. All of our students can be sure that they are learning from a company with a strong background in the security industry. In fact, the directors of ASC have over 80 years' worth of experience in the security sector. They are thus well placed to know exactly what prospective security personnel require from training.
As well as being part of one of the most recognizable security firms in the world, Pacific West Academy has a staff of qualified and certified instructors. These people deliver training courses to the highest standards. Our instructors are highly adept at delivering complex information in a manner that is easy to understand. They take their role as educators very seriously. Pacific West Academy has been able to assist 1,700 students on the next step in their career. It's clear our instructors are doing something very right indeed!
---
Fast track your career with our Executive Security Training. Get in touch us today!
We welcome all questions from potential students. Please do feel free to get in touch and we'll do all we can to provide the answers you need.
When you're ready to make a booking, just give us a call and we'll go through all the essential information you need to know. We look forward to hearing from you soon and welcoming you to Pacific West Academy to begin your Advanced Executive Protection Training.
Our Students Say
I just wanted to thank you for giving me the opportunity to attend your CPR course. I know your focus is primarily training bodyguards but as a mother of two I wanted to learn CPR 'just in case.' I never realized there was such a difference between CPR for adults and CPR for infants. I now feel comfortable that if something bad were to happen I have the ability to do CPR. Thank you again.
Larissa
Courpus Christi, TX
I've been in Executive Protection here in LA since returning from a tour in Iraq in 2005. I think a lot of people who are interested in this field are under the misconception that being a cop, soldier or bouncer will give them all the tools they need to be effective in the EP field. Far from it. These jobs may provide a foundation but they don't provide a true understanding of the dynamics of Executive Protection. Your course was a good introduction to the ins and outs (and potential pitfalls) of EP work. Whether or not someone is new to the field or, like me, just trying to maintain perishable skills, I highly recommend this course.
Don
Los Angeles, CA
I just want to say thank you to ASC for everything. After I graduated I got a call from ****** Security about my interview that I had with them on the last day of school. They said that the skill set and training I received from ASC (along with my military background) place me far beyond the average person who applied for a job with their company. And because of that they want to hire me not as a security guard, but as a shift supervisor. I couldn't believe it. One of my fears about starting my career and security was that I would graduate from training and not receive any job offers. However since graduating ASC I've been offered two jobs (one as a supervisor and one as a guard) and the pay for both are great. The money I'm going to start making is way more than what I was before so for that I want to say thank you. It was because of you guys that my life changed course and now the possibilities are ever-changing. Be sure to pass my thanks to Connor, Omer, Ryan, Jake, Ian, Steve and the rest of the guys.
Jovidean
Sun Valley, CA
As a former law enforcement officer I thought I had a pretty good understanding of what it would take to be a good Executive Protection Specialist but it's a whole different ball game when you don't have the weight of a badge behind you. Although this course was basically fundamentals, I felt it helped bridge the gap between my experience as a law enforcement officer and the EP field. Although I had done a lot of similar range work before I found the firearms portion of the course work to be very professional and well executed and could see how this would be a great course for someone new to the field. Thanks for a great course.
Josh
Huntington Beach, CA
Previous
Next