Chemical Agent / OC / Pepper Spray Training & Certification
Get certified with Pepper Spray Training at Pacific West Academy in Los Angeles.
Learn the skills to effectively carry a chemical agent. Get hands-on training and experience with chemical agents. For anyone with an interest in the fields of security and protection, the ability to carry and safely handle chemical agents is vital. Oleoresin Capsicum spray — which is better known as "pepper spray" — is one of the most effective, and best known, chemical agents in the world. It is a nonlethal component that is primarily used in self-defense. As such it has a key role to play for those looking to work in the fields of security or crowd control. However, pepper spray is only as effective as the person using it. Without proper techniques and understanding of acceptable deployment, it can be extremely dangerous.
Being able to safely handle and, if required, use pepper spray is a vital skill. Our course will provide you with the skills you need. It will allow you to work with pepper spray with the utmost of confidence. Our course is designed to cover both the practical and theoretical realities of understanding, and working with, pepper spray. Read on to find out more about the course we offer and how it may benefit your future career path.
What the  Chemical Agent Certification Course involves: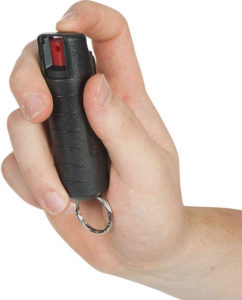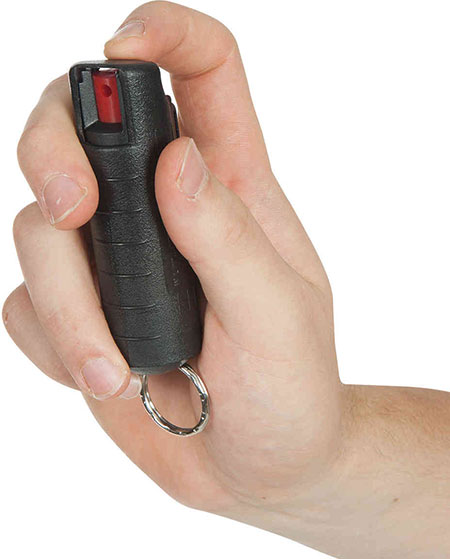 Pepper spray is an incredibly volatile compound. When sprayed, it has the ability to effectively incapacitate a person for a period of time. It produces a burning, stinging sensation that can be incredibly painful.
While non-lethal, pepper spray is a chemical agent that has to be respected. As a result, our courses focus heavily on both the theoretical and practical usage of such agents. We will teach you the key realities of having access to these chemical agents, as well as the legal and moral implications that you need to know. You will be guided through the usage of the pepper spray canister, how it works, and how it should be used safely and effectively.
You will also benefit from an overview regarding the use of force and the role that chemical agents have to play in regard to this. We will also provide you with essential first aid information for those who have been exposed to chemical agents. This is extremely beneficial both for your own safety, and for future planning in the aftermath of pepper spray being deployed.
We will also discuss various aspects of chemical agent familiarization. We believe that if someone is to use these agents correctly, they have to know exactly what they will be handling. We place emphasis on the theoretical learning of chemical agents. The upshot is that you know exactly what you will be dealing with in the workplace.
PWA's Pepper Spray Training with teach students:
Legal and moral responsibilities of chemical weapons.
Pepper spray canister.
Use of force.
Chemical agent familiarization and its uses.
First aid for chemical agent exposure.
Fundamentals of chemical agent use.
Certification:
Upon completion of the course, you will be awarded a recognized PWA Chemical Agents Certification Card, as well as an ASC Certificate of Completion. This certification will allow you to work in a variety of security-related roles and carry chemical agents as part of your work.
Duration: 2 hours
Why Choose Pacific West Academy?
We are proud to be an Advanced Security Concepts, Inc (ASC) company. As specialists in Executive Protection and Specialized Training, ASC have built a reputation as one of the most reputable and capable security companies in the world. As well as Pacific West Academy in California, ASC have offices in Bulgaria, Israel, and Peru. They also have a 114-acre Tactical Training Center located in Tennessee. In terms of reputability in the security industry, ASC are tough to beat. You can thus be sure your training will be delivered by the absolute best of the best.
As you would expect from a company affiliated to ASC, Pacific West Academy has taken steps to secure approval from authorities. At the present time, we have received approval from both the Bureau for Private Secondary Education and the California State Approving Agency for Veterans Education. Additionally, the State of California has approved and named us as an Eligible Training Partner. These approvals should reassure you that we, as a provider, have been judged able to deliver high quality and expertise across our range of courses.
One of the reasons we have been able to enjoy the approval of the aforementioned regulatory bodies is the work of our instructors. All 14 of our instructors are highly experienced and certified. You can therefore be sure you are learning from genuine experts in their field. The expertise our instructors can offer will help to ensure you are able to fully comprehend and benefit from all the material you will learn as part of your course, which in turn should prepare you well for a future career in the security industry.
---
Why not get in touch us today?
Whether you're ready to enroll on our California Guard Card certification course or just want to ask a few questions, we'd be happy to hear from you. Please don't hesitate to get in touch and begin the journey towards the fantastic training opportunities we are able to offer. We look forward to hearing from you soon.
Our Students Say
I just wanted to thank you for giving me the opportunity to attend your CPR course. I know your focus is primarily training bodyguards but as a mother of two I wanted to learn CPR 'just in case.' I never realized there was such a difference between CPR for adults and CPR for infants. I now feel comfortable that if something bad were to happen I have the ability to do CPR. Thank you again.
Larissa
Courpus Christi, TX
I've been in Executive Protection here in LA since returning from a tour in Iraq in 2005. I think a lot of people who are interested in this field are under the misconception that being a cop, soldier or bouncer will give them all the tools they need to be effective in the EP field. Far from it. These jobs may provide a foundation but they don't provide a true understanding of the dynamics of Executive Protection. Your course was a good introduction to the ins and outs (and potential pitfalls) of EP work. Whether or not someone is new to the field or, like me, just trying to maintain perishable skills, I highly recommend this course.
Don
Los Angeles, CA
I just want to say thank you to ASC for everything. After I graduated I got a call from ****** Security about my interview that I had with them on the last day of school. They said that the skill set and training I received from ASC (along with my military background) place me far beyond the average person who applied for a job with their company. And because of that they want to hire me not as a security guard, but as a shift supervisor. I couldn't believe it. One of my fears about starting my career and security was that I would graduate from training and not receive any job offers. However since graduating ASC I've been offered two jobs (one as a supervisor and one as a guard) and the pay for both are great. The money I'm going to start making is way more than what I was before so for that I want to say thank you. It was because of you guys that my life changed course and now the possibilities are ever-changing. Be sure to pass my thanks to Connor, Omer, Ryan, Jake, Ian, Steve and the rest of the guys.
Jovidean
Sun Valley, CA
As a former law enforcement officer I thought I had a pretty good understanding of what it would take to be a good Executive Protection Specialist but it's a whole different ball game when you don't have the weight of a badge behind you. Although this course was basically fundamentals, I felt it helped bridge the gap between my experience as a law enforcement officer and the EP field. Although I had done a lot of similar range work before I found the firearms portion of the course work to be very professional and well executed and could see how this would be a great course for someone new to the field. Thanks for a great course.
Josh
Huntington Beach, CA
Previous
Next