GI Bill® Approved CESS Program – Close Protection Training
GI Bill® is a registered trademark of the U.S. Department of Veterans Affairs (VA)
Have a Question about Our Certified Executive Security Specialist Program? Call (818) 906-3753
Get the training needed to be successful in Executive Protection from Hollywood's prestige, relevant and experienced executive protection agents following Israeli Tactics doctrine. It is time to incorporate your military experiences into the beginning of a successful civilian career. Our objective at Pacific West Academy is to aid U.S. Military veterans in their transition from military service to the field of high-end security and executive protection.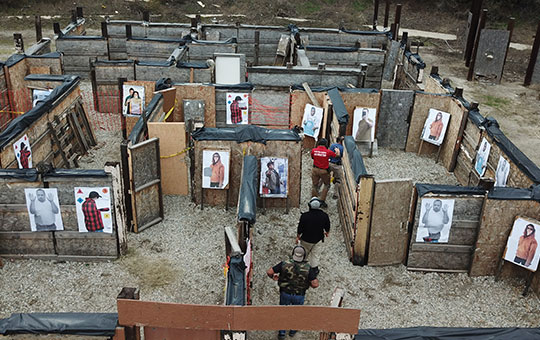 ---
Start Dates for our Certified Executive Security Specialist Course:
January 3rd to February 24th, 2023
February 6th to March 31st, 2023
March 13th to May 5th, 2023
April 17th to June 9th, 2023
May 22nd to July 14th, 2023
June 26th to August 18th, 2023
July 31st to September 22nd, 2023
September 5th to October 27th, 2023
October 9th to December 1st, 2023
November 6th to December 22nd, 2023
---
The Certified Executive Security Specialist (CESS) Course is Pacific West Academy's flagship program which has been approved for post 9-11 VA Benefits. The CESS program offers classroom and physical training geared toward employment in high-end security positions such as Executive Protection, Residential Protection, Executive Driving, Technical Surveillance Countermeasures, etc. Our staff is comprised of American and Israeli Military Veterans who work to guide our students toward success in high-end security.
It is our goal to assist our students in finding not only job attainment, but gainful employment. Students will participate in a training program that provides hands-on instruction from veterans of U.S. and Israeli Special Forces and Secret Service Operators. Our team of instructors has adapted their elite military training to provide Executive Protection for high-profile Hollywood celebrities.
Begin a new career as a Certified Executive Security Specialist (CESS) at Pacific West Academy today!
"*" indicates required fields
Classes Included in the CESS Program:
This course provides students fundamental security training and a first-hand, detailed understanding of executive protection. Students experience a hands-on approach of high-end, VIP and celebrity protection in the day-to-day civilian environment.
The course will cover surveillance and counter surveillance techniques, contractor operations, advancing locations that are frequented by clients and armed reaction drills while protecting a client in high threat situations.
Students may earn a State Certification for an exposed firearm permit. Even if licensed or registered in the security field, a person may not carry a gun on duty whether loaded or unloaded ,unless they have issued an exposed firearm permit by the California Department of Consumer Affairs. Permits must be kept on one's person at all times while on duty.
The Advanced Handgun Shooting Tactics Course is designed to test and reinforce the fundamental tools necessary for scenarios that security personnel are most likely to encounter. The skills learned are tied together with stress-based scenario-training utilizing airsoft, UTM and live munitions. The course is instructed following Israeli Tactics doctrines.
This course provides students with both in-class instruction and practical application in vehicle operation. Students will drive and practice high-speed maneuvers and techniques relevant in both law enforcement and executive protection scenarios.
Students learn about human behavior and aggression. Students will study how to analyze behavior patterns and techniques that contribute to improving human relations that help prevent aggression at the earliest levels. Students will also learn pre event indicators to possible attacks based on human behavior patterns.
Students learn both fundamental and advanced skills utilized by executive protection supervisors to plan and execute security details. Students gain first-hand knowledge by planning an entire security detail based on real-time information and destinations from a mock client provided to them.
This course introduces evidence-based, how-to-respond-to and how-to-care-for procedures for patients in a civilian tactical environment. It is designed to decrease preventable deaths in a tactical situation. The course presents the three phases of tactical care. Our instructors are certified by the National Association of Emergency Medical Technicians (NAEMT).
This course is an introduction to hand-to-hand combat techniques. The course is tailored toward techniques and tactics that an executive protection agent can use should the occasion arise. This program is a conglomeration of multiple fighting disciplines including Krav Maga, Jiu Jitsu, Judo, Boxing and additional redirection drills. This course will be spread throughout the training program.
This security training course is the first step in working in a security career. The course is certified through California's Bureau of Security and Investigative Services (BSIS) and is California Assembly Bill-compliant, meeting the standards for registered security guards. Upon completion, a student receives state certification as a security officer.
An introductory course into arrest and control. This course covers the basics of conflict management, handcuffing, and controlling a suspect while in the performance of duties as a security guard.
Learn the skills and abilities to effectively administer life-saving Cardiopulmonary Resuscitation (CPR) techniques as a first responder. During the course, an American Heart Association Instructor works with each student to complete their first aid training, CPR and Automated External Defibrillator (AED) skills practice and testing.
A security training course that teaches the student how to utilize a Taser as a non-lethal method of self- defense. Curriculum is broken into three sections: lecture, demonstration and scenario method.
This course covers Federal and California Laws regarding the prevention of sexual harassment, discrimination and retaliation in employment.
Get certified for OC (Oleoresin capsicum) pepper spray. Student learns the skills to effectively carry a chemical agent and receives et hands-on training and experience with chemical agents.
Upon completion of this course, students graduate with a completed and revised professional résumé and are then able to walk into an interview confidently. The course uses hands-on practice through mock interviews in addition to physical résumé writing in an interactive and productive setting.
Duration: 348 hours
Course Cost: $15,800.00
This Certified Executive Security Specialist course is in collaboration with:

Cost includes all supplies, fingerprinting and application fees.
Mandatory applications and background checks are processed by the state to determine certification approval. Before signing up for the 39-day course, applicants should call to see if they meet the state's requirements.
For the EVOC class participants are required to have a valid drivers license.
---
Course Schedule & School Calendar – Los Angeles
GI Bill® is a registered trademark of the U.S. Department of Veterans Affairs (VA). More information about education benefits offered by VA is available at the official U.S. government Web site at the VA Website.
Our Students Say
As a former law enforcement officer I thought I had a pretty good understanding of what it would take to be a good Executive Protection Specialist but it's a whole different ball game when you don't have the weight of a badge behind you. Although this course was basically fundamentals, I felt it helped bridge the gap between my experience as a law enforcement officer and the EP field. Although I had done a lot of similar range work before I found the firearms portion of the course work to be very professional and well executed and could see how this would be a great course for someone new to the field. Thanks for a great course.
Josh
Huntington Beach, CA
I just wanted to thank you for giving me the opportunity to attend your CPR course. I know your focus is primarily training bodyguards but as a mother of two I wanted to learn CPR 'just in case.' I never realized there was such a difference between CPR for adults and CPR for infants. I now feel comfortable that if something bad were to happen I have the ability to do CPR. Thank you again.
Larissa
Courpus Christi, TX
I just want to say thank you to ASC for everything. After I graduated I got a call from ****** Security about my interview that I had with them on the last day of school. They said that the skill set and training I received from ASC (along with my military background) place me far beyond the average person who applied for a job with their company. And because of that they want to hire me not as a security guard, but as a shift supervisor. I couldn't believe it. One of my fears about starting my career and security was that I would graduate from training and not receive any job offers. However since graduating ASC I've been offered two jobs (one as a supervisor and one as a guard) and the pay for both are great. The money I'm going to start making is way more than what I was before so for that I want to say thank you. It was because of you guys that my life changed course and now the possibilities are ever-changing. Be sure to pass my thanks to Connor, Omer, Ryan, Jake, Ian, Steve and the rest of the guys.
Jovidean
Sun Valley, CA
I've been in Executive Protection here in LA since returning from a tour in Iraq in 2005. I think a lot of people who are interested in this field are under the misconception that being a cop, soldier or bouncer will give them all the tools they need to be effective in the EP field. Far from it. These jobs may provide a foundation but they don't provide a true understanding of the dynamics of Executive Protection. Your course was a good introduction to the ins and outs (and potential pitfalls) of EP work. Whether or not someone is new to the field or, like me, just trying to maintain perishable skills, I highly recommend this course.
Don
Los Angeles, CA
Previous
Next